First Responders Benefits
What First Responders Receive From Us
At Tom's we pride ourselves on being more than just a car dealership; Tom's Ford is a part of New Jersey. We know it's huge to give back to the community we are a part of and are excited to offer something to the brave men and women who serve our community each and every day! Tom's Ford is grateful for your service to our families and friends. We're proud to bring you a First Responder Bonus Cash Offer to go toward the purchase or lease of an eligible new Ford vehicle. Getting more than ever, we're now giving $500 First Responder Appreciation Bonus Cash on top of all the other benefits of working with Tom's Ford. You won't think twice about your our dealership, or our excellent sales professionals who make getting your next vehicle a breeze.
Why We Support the First Responders
At the end of 2016, the federal government estimated there to be around 10 million first responders in the United States. There are over a million firefighters and almost 750,000 of them are volunteers. They're willing to risk their well being for ours when we need it most while living their regular lives like we all do. There are more than Half a million police officers who keep peace in our communities every day, putting themselves in the line of danger so we don't have to face it. If you could even for a second realize how much these people do for our everyday lives, you would want to support them too.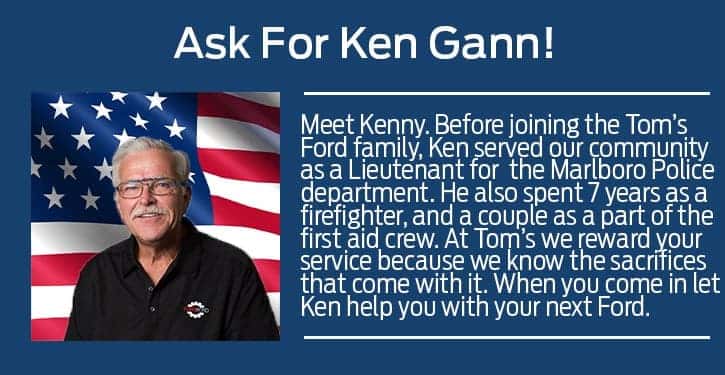 How To Get Your Bonus Cash
To get your bonus cash, you'll have to use an ID.me account to verify you're a first responder. You can register for an account here as well as learn more about the program and benefits Ford offers first responders. They're a completely safe and trusted website. ID.me is one of only four companies accredited by the federal government at the highest level possible for a remote identity provider. After registering, or if you already have an account, you will need to sign in to answer a few questions before receiving a rebate code. We do ask that you have your code prior to making your purchase, this way all of the licensing and registration goes smoothly with the transaction.
Who qualifies for this?
Below is a list of both eligible and ineligible first responders;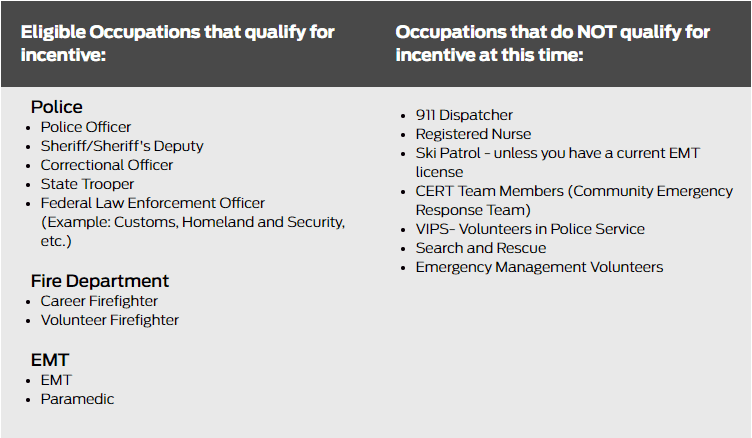 We Support You
If you want to learn more about the Ford First Responder Bonus Cash or have any questions about your qualifications, visit our dealership at 200 State Hy 35 in Keyport, NJ or contact us today.
Mon - Thu

9:00 AM - 7:00 PM




Fri

9:00 AM - 6:00 PM




Sat

9:00 AM - 5:00 PM




Sun

Closed
Mon - Fri

7:00 AM - 5:00 PM




Sat

7:00 AM - 12:00 PM




Sun

Closed
Mon - Sat

7:00 AM - 5:00 PM




Sun

Closed
Mon - Fri

7:00 AM - 5:00 PM




Sat

7:00 AM - 3:00 PM




Sun

Closed