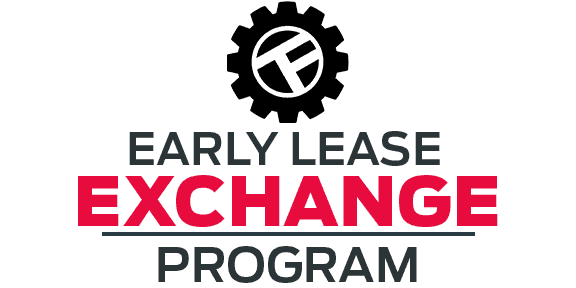 Early Lease Exchange
Get out of your vehicle early and into a new one today at Tom's Ford That's right, at Tom's Ford we're able to get you out of your current lease early and into a brand new Ford up to 6 months before your contract ends. Sounds a little crazy, huh? Well, it happens almost every day, and it saves you some money!
How does it work?
It's actually really fast, and easy!
The first step is discussing your options with our Leasing Consultant – Davene Sherman. She can help you to better understand all of your options and make an informed decision on what you should do next. If you don't know what car you'd like next, a good place to start is our research page!
What are the benefits?
There are a ton of benefits, but the biggest one is getting into the newest model for the same or even a lower payment than you had before. The best part is this isn't exclusive to Ford owners! Driving a Dodge, Chevy, Nissan, or maybe a Jeep? We can work with you to get you out of your lease early as well. It's a quick and easy exchange, practically trading your keys for ours!
Why would you get me out early?
Believe it or not, we're always seeking more used vehicles to put on our lot! It's hard to keep a large inventory of quality used vehicles, but we're hoping that this program can help us restock our used inventory over the next few months. We offer a FREE consultation and inspection of your vehicle to ensure it's worth enough for this exchange program to work for you. We believe in honesty and transparency, which is why we're upfront about this one thing; the exchange program doesn't work for everyone, but we stretch as far as we can to make it happen. The fewer payments you have left, the better chance this program is the one for you.
I'm interested, but I have a few more questions.
Not to worry! If you have any questions you can always reach out Davene at 732-338-8037 or fill out the form below, and she'll get back to you however you prefer.
Mon - Thu

9:00 AM - 7:00 PM




Fri

9:00 AM - 6:00 PM




Sat

9:00 AM - 5:00 PM




Sun

Closed
Mon - Fri

7:00 AM - 5:00 PM




Sat

7:00 AM - 12:00 PM




Sun

Closed
Mon - Sat

7:00 AM - 5:00 PM




Sun

Closed
Mon - Fri

7:00 AM - 5:00 PM




Sat

7:00 AM - 3:00 PM




Sun

Closed