What Makes Us Unique?

The first, and most important thing that makes Tom's different – The People. Our mantra is "Humanity Comes Standard". That means that we focus on treating each other and our customers like real humans with real stories. Our team is a collective of dedicated, proud humans who go above and beyond for anyone who steps through our doors. We weren't all "car people" when we started here. We were just people – real honest people looking for a place with others like us. We pride ourselves in being the outliers in this amazing business that's unfortunately been given a bad rep. We love to be a part of our local community, supporting and giving back to it where we're able to.
Our mission is to innovate every day to find new ways to improve the customer experience. A few innovations unique to Tom's Ford are "Virtual Rooms" and "Virtual Test Drives" where we come directly to you on your terms. You can video chat with a member of our team regardless of whether you have an Apple or Android phone. Let's not forget that we find ways to make the experience fun and enjoyable. Our staff has personality, and spunk, and we're not afraid to show it off on our social platforms like Instagram or Facebook. Make sure you give us a follow @tomsford to see what we're talking about!
With new years come new ideas, new cars, and new faces. We hope that if you haven't already become a part of our Tom's Ford family, this year you can give us a chance to show you the reason why so many others have.
Mon - Thu

9:00 AM - 7:00 PM




Fri

9:00 AM - 6:00 PM




Sat

9:00 AM - 5:00 PM




Sun

Closed
Mon - Fri

7:00 AM - 5:00 PM




Sat

7:00 AM - 12:00 PM




Sun

Closed
Mon - Sat

7:00 AM - 5:00 PM




Sun

Closed
Mon - Fri

7:00 AM - 5:00 PM




Sat

7:00 AM - 3:00 PM




Sun

Closed
Where Did It All Start?
As a manufacturer, Ford has raised the bar for the automotive world for over a century, and Tom's Ford has provided the finest Ford vehicles to drivers since 1962, when Tom Lyttle opened the doors of the newest Ford dealership in New Jersey.
Ford was quickly impressed with Tom's skills, determination, and his ability to see the full potential of his facility, and the dealership rapidly grew to become one of the most successful in the tri-state area.
Tom understood that outperforming the competition required building long-lasting customer relationships based around honesty, transparency, and a dedication to service. And these are the principles that we still bring to our customers today.
What Has Tom's Dream Grown Into?
Over the past 56 years, we've been honored by Dealer Rater's 'Dealer of the Year Award', Edmund's '5 Star Dealer Award', and "Carfax Top Dealer Award". We're also honored to say that we're a 23-time President's Award Winning Dealership, 1 of 5 Dealers in the Nation to receive this many. The President's Award is given only to the top 3% of Ford dealerships for customer satisfaction.
Our dealership also strongly believes in giving back, in being an active part of the community we live and work in. And it shows! We have a growing selection of positive online reviews from our customers, new and old!
The Tom's Ford staff is happier at their jobs, too, with most of our team adding up 20 years or more experience serving the community! Our team has come to know generations of local drivers, and they're happy to bring their love for service and their expertise to make your dealership experience the best it can be!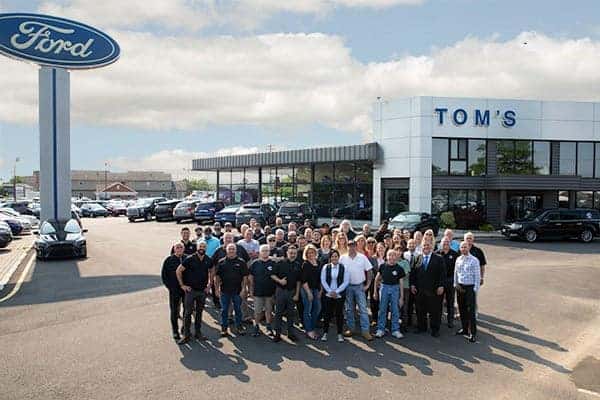 How Do We Help the Community?
Our commitment to our customers doesn't stop at the dealership doors. We at Tom's Ford take pride in our community involvement and we're always looking for dedicated local organizations, events, and non-profits to partner with.
In the past, we've worked closely with organizations like Parents of Autistic Children (POAC) to develop training programs. We sponsored the event "Shave A Hero / Save A Hero" to raise awareness alongside Infinite Love for Kids Fighting Cancer. Our staff is always ready and willing to contribute and participate with volunteer and fundraising opportunities.
From sales floor to service center, you'll find the most dedicated team members when you come to Tom's Ford. To discover more about our dealership, feel free to contact us today.
Where Can I Stay Informed on What's Happening at Tom's?
We've got a lot in store here at Tom's Ford and we want you to stay up-to-date with our dealership! Whether you want more vehicle information, want to find a fun blog, or want to see what community projects we're working on, we've got you covered! Check out our weekly blog and follow us on social media to get the latest news and updates about Tom's Ford. We look forward to working with you!