Take Advantage of This Month's Current Offers
Ford Blue Advantage: Confidence at Every Turn
Experience the benefits of Ford Blue Advantage! Each Ford Blue Advantage vehicle features a limited warranty, multi-point inspection, 24/7 roadside assistance, and FordPass™ Rewards Points.
We're Here For You
Tom's Ford always puts customers first!
Don't take our word for it: Read our reviews and see what everyone is saying.
Ken & Andrea were amazing to deal with! We would 100% use them again!
Great sales and service highly recommend
Thank you to Gerry he was awesome through our whole process ordering, delivery and our receipt of ownership. Highly recommend him . He is definitely an asset to Tom's Ford.
I leased my 4th car from Tom's Ford and the whole process was extremely easy. Jerry Donaghuewas my salesman and I would highly recommend going to him for your next car.
Tom's Ford went above and beyond for us. Debbie and Scott provided excellent service and really helped us out. This was our 3rd time leasing with Tom's Ford and we would definitely recommend them to everyone. We had a great experience.
Best experience I ever had purchasing a vehicle. Top notch customer service. Our salesman John was fantastic! Would highly recommend Tom's Ford and John.
Great dealership! Amazing staff. Bobby Keenan was knowledgeable and efficient. Made the process a breeze!
I had a such a great experience with that place! Mr Keenan is so far the best car dealer I've ever met. I had lots of questions and he was very quick to answer. Every time I emailed him he responded right away. Very honest and no bs! Highly recommend Mr. Keenan! Definitely will use him again in future'
Tom's Ford staff is amazing. Courteous band so helpful.
love my new maverick from toms ford. thanks marc for my new ride! 5 stars toms
John Luberto was a pleasure to work with from start to finish. As a first time car buyer, I was turned off at the experiences I had at the different dealerships I shopped at. Upon meeting John, the feeling changed instantly. John made what to that point had been a miserable experience into one of the best buying experiences I have ever had. I recommend anyone who is looking to purchase a new vehicle to check out Tom's Ford and ask for John. 5 out of 5 stars.
Very efficient and smooth car buying experience. Marc was friendly, patient and responsive to our questions without being pushy. He was respectful of my time and made it an easy purchase.
Customer service was amazing. Jasmin sat us down March 1st was super patient with us. Even let us test drive the car! Sat down made and order. Even let us change it for our final order. We arrive to pick the car up they let us test drive again! Before final preparations. Jasmin was super patient explaining everything to us. Showing us all the paper work and explaining everything. Then came outside to show me all the little nic nacs of my car and the infotainment screen. She was amazing and would go back to make an order with her again. And Steve was awesome too with his enthusiasm and showing us all the warranty and helped us finance. 12/10 would recommend this dealership and will be coming again in the future to make more car orders!!!
Tom's Ford is the only dealership I use. Great personal service, and will always work with you. My salesman, Armaan Datt is a knowledgeable gentleman whom I really liked doing business with, I liked doing business with him so much, that I purchased 2 Broncos from him, a Sport and Full Sized.Also, being I've had full sized pick ups over the past 15-20 years, Sandy Gelpke always treated me with respect and professionalism. I have purchased or leased over 6 vehicles through Tom's Ford, that alone shows the confidence I have in them. I must say that they have really picked up their game since I started dealing with them! I will continue to use Tom's Ford as long as they keep hiring great people to work for them. Please, my kudo's go out to Armaan Datt and Sandy Gelpke for treating me like a human being with great respect!! Dan Sweeney
Great service and very fast.
I bought an f350 Tremor from Tom's Ford, it was a great experience. Debbie was a pleasure to work with.
We bought all of our trucks from Ken Gann at Toms Ford. Easy process and no pressure--treated like family. We don't shop anywhere else. PCM Contracting Corp
John is THE BEST!! I've been with Ford for a few years and this is my second lease. It's so easy and John makes everything a breeze it is great!! I won't go anywhere else for my car or deal with anyone but John! Ford for Life!!
Such a good buying experience with Debbie, as well as Gerry. And so great to deal with Scott while working out financial terms. This is our second vehicle bought through Tom's Ford and we will definitely e back.
Wow! Absolutely the best Experience buying a car!! John is #1 Hands down! From the minute we I walked into Toms Fords dealership, I was at ease. John was not high pressure, listened to what i wanted, and helped me find the perfect F150. At the time what I was looking for no dealership had in stock. John said he would look for what I was looking for and call me when he found the vehicle i requested. It took less than a week, the car was beautiful and exceeded my expectations. The entire process purchase took less than an hour. I am so impressed, I told John that he's a straight shooter! I highly recommend you go meet John at Toms Ford He is the most knowledgeable guy in the car business these days! , you will not be disappointed. BB
I've bought all of my cars from Tom's ford since early 2000 never pressured always treated like family! It's to the point where Scott and Debbie and Jim (god rest his soul) are my extended family. Really really great service and the kindest people. I don't shop anywhere else honesty. Joe and Jane miller
Best Ford sales and service in the tri state hands down
The team at Tom's Ford is remarkable. I've been purchasing work and personal vehicles from them since 2015. The service department is also amazing. I will continue to purchase and service my vehicles with them.
Thank you Debbie for our new car. Easy process, did everything for us. thank you very much
Jerry was very friendly, helpful and thorough with explaining everything. Would definitely see him if you ever need a car!
From the sales floor to the service center, our dealership is staffed with dedicated team members who truly care about our customers. We are committed to a transparent and honest experience for all of our customers, and a dedication to trustworthiness and service that keeps us at the forefront of the automotive industry. Our dealership is located in Keyport, New Jersey, offering convenient access for customers located throughout the New York City metro area.
Along with providing excellent service, we ensure that our customers are treated with respect. Preferring not to handle second-chance financing, which can put shoppers in difficult circumstances, we take the time, instead, to work on finding options that best suit each customer's financial situation.
Visit our Extensive Inventory
If you are looking for a Keyport New Car Dealer or a Keyport used car dealer in the Middletown or Hazlet area, look no further than our dealership at Tom's Ford. If you are looking for new cars, SUVs, commercial vehicles, commercial work trucks, or anything else, check out our new vehicle inventory.
If you are looking for a used vehicle with high-quality features and amenities at an affordable price, visit our used vehicle inventory. From used Ford vehicles to pre-owned models from other popular automakers, you're sure to find something you love. If you are looking for a vehicle in between new or used vehicles, check out our certified pre-owned vehicles. There is sure to be a vehicle to meet your needs in the Red Bank area.
Visit us at Tom's Ford Today!
We are not simply satisfied with just providing you with a high-quality vehicle, we are also here to help you maintain your vehicle to keep it looking like new on Middletown roads. Schedule service today, or check out our finance department to save money on your new, used, or CPO vehicles. Apply for financing today!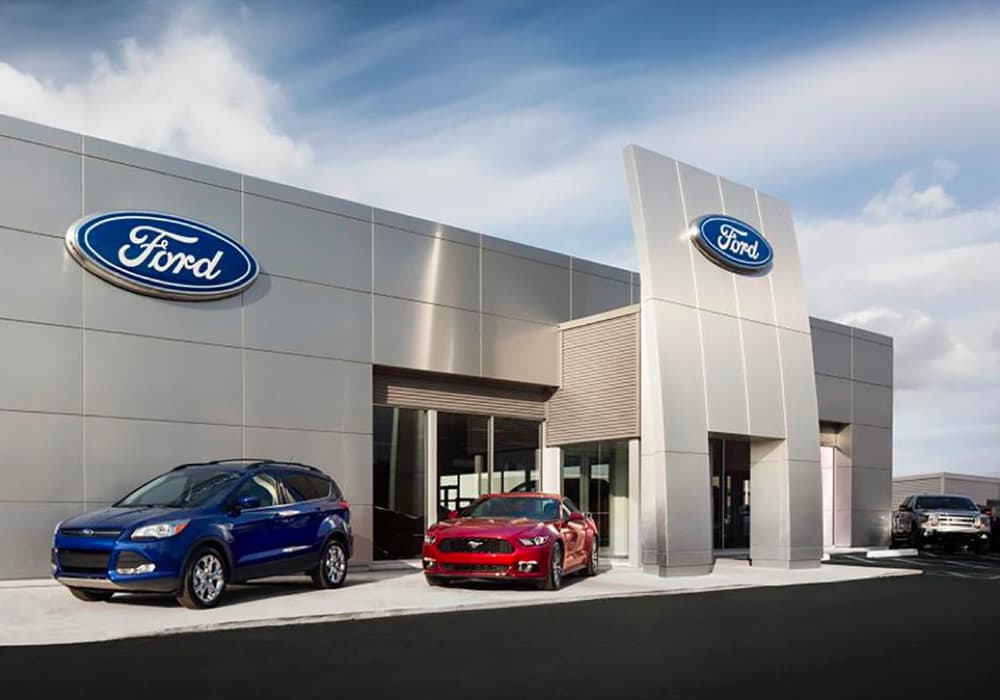 Get Directions To Our Dealership